The Unexpected Benefits of
Vinyl Windows for Your Home
Vinyl windows are a popular choice for many homeowners because they're affordable, maintenance-free, and they look great in almost any home decor theme or style. They also provide insulation and block out sunlight, making them ideal for year-round use.
However, there are several unexpected benefits of vinyl replacement windows for your home that you may not have considered.
In this article we take a look at some of the top benefits of vinyl windows that will make you want to switch.
Improved Energy Efficiency
First and foremost, vinyl windows are incredibly energy efficient. Vinyl windows are ideal for those who are looking for an inexpensive way to improve their home insulation and lower their energy bills. At Nex-Gen, we specialize in installing Anlin Del Mar Windows that offer superior performance to keep your home warmer in the winter and cooler in the summer, substantially reducing your heating and cooling costs.
Anlin Del Mar vinyl windows exceed Energy Star requirements and provide excellent U-values below .30 (DATA). This means that they can substantially reduce heat transfer through the windows. This is ideal for homes that experience cold climates like those in Colorado.
They also include innovative Comfort•Core™ and Inner•Core™ technologies. Comfort•Core™ provides a low conductance green foam inserted in specific dead air chambers in the window frames. Inner•Core™ offers ultra-strong fiberglass-reinforced inserts for superior thermal insulation and strength.
Vinyl Windows are Durable
In addition to their energy efficiency, vinyl windows are also highly durable and long-lasting. Vinyl is a strong and sturdy material that is resistant to impacts and other types of damage. This means that vinyl windows can withstand the wear and tear of daily use without easily breaking or cracking.
Additionally, vinyl is a non-porous material, which means that it doesn't absorb water or other liquids. Unlike wood windows, which can rot and warp over time, vinyl windows are resistant to moisture and other environmental factors, such as extreme temperatures and UV rays. As a result, vinyl windows are less likely to warp, rot, or fade over time, which helps to extend their lifespan. This means that they will maintain their shape and function for many years to come, providing a long-term investment in your home.
Finally, vinyl windows are low-maintenance, which is another factor in their durability. Unlike wood windows, which require regular painting and staining to maintain their appearance, vinyl windows never need to be painted or stained. Vinyl is also easy to keep clean. If you want to ensure that your window always looks great, you can use a mild soap or spray and a soft brush. Regular cleaning will prevent dirt, pollen, and other contaminants from building up inside your window. Retaining their like-new appearance for many years with minimal effort on the part of the homeowner is one of the top benefits of vinyl windows.
Another of the unexpected benefits of vinyl windows is they are highly customizable, allowing you to choose the exact style, color, size, and hardware that best fits your home. Whether you want traditional single-hung windows, slider windows, or something more unique, you can find a Del Mar vinyl option to suit your needs. This level of customization allows you to create a truly personalized look for your home.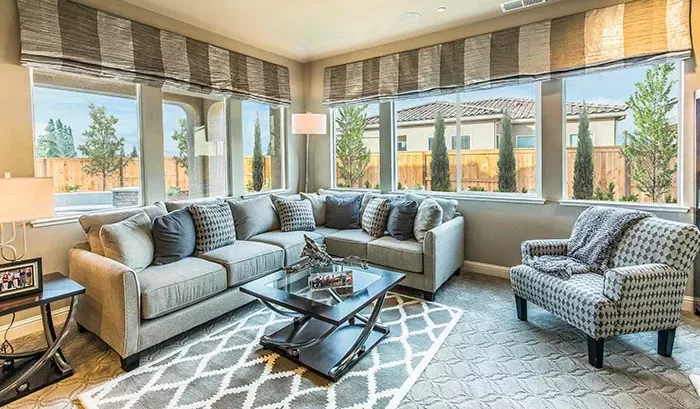 Vinyl Windows are Affordable
If you are looking to upgrade your windows, the best decision you can make is to get vinyl windows. This is because they are not only durable and energy efficient, but they are also cost-effective. Most vinyl windows have an installation cost of between $1,500 and $4,000. Although this might seem expensive, it's actually extremely reasonable. After all, this is the price of a single pane of glass from your old windows. When you look at the amount of value that vinyl windows can bring to your home and your family, it's easy to see why they are such a good investment.
Another benefit of installing vinyl windows is their ability to reduce noise. This is because vinyl windows are rated for sound attenuation. Sound attenuation is the level at which a sound is able to travel through a material. 
Anlin Del Mar windows come standard with Anlin Sound Package with sound suppression technology and are engineered to reduce exterior noise by up to 50% compared to typical dual-pane windows. This makes vinyl windows an excellent option for making your home a quieter, more comfortable place to live.
Vinyl Windows are Environmently Friendly
Perhaps one of the most unexpected benefits of vinyl windows is their environmental friendliness. Unlike wood windows, which require the harvesting of trees, vinyl windows are made from a renewable resource: PVC plastic. This plastic can be recycled and repurposed at the end of its lifespan, making vinyl windows a more sustainable choice for your home.
Contact the Vinyl Window Experts at Nex-Gen
Overall, the wide range of benefits of vinyl windows go beyond their cost-effective and low-maintenance nature. From their energy efficiency and durability to their customizable options and environmental friendliness, vinyl windows are a smart choice for any homeowner. So if you're in the market for new windows, consider the unexpected benefits of vinyl windows and make the switch today!
Nex-Gen is proud to offer Anlin Del Mar vinyl windows as an exclusive Gold Star Dealer. We offer a wide selection of quality vinyl replacement windows on display at our showrooms located in Fort Collins and Colorado Springs, CO.  Our design team is uniquely qualified to help you find the style of window that captures your creative vision — regardless of how unique your needs might be. 
Contact us today to set up a free in-home replacement window consultation. We'll provide an accurate measure and no-obligation estimate for your project requirements. 
Improving Your Home, Protecting Your Investment