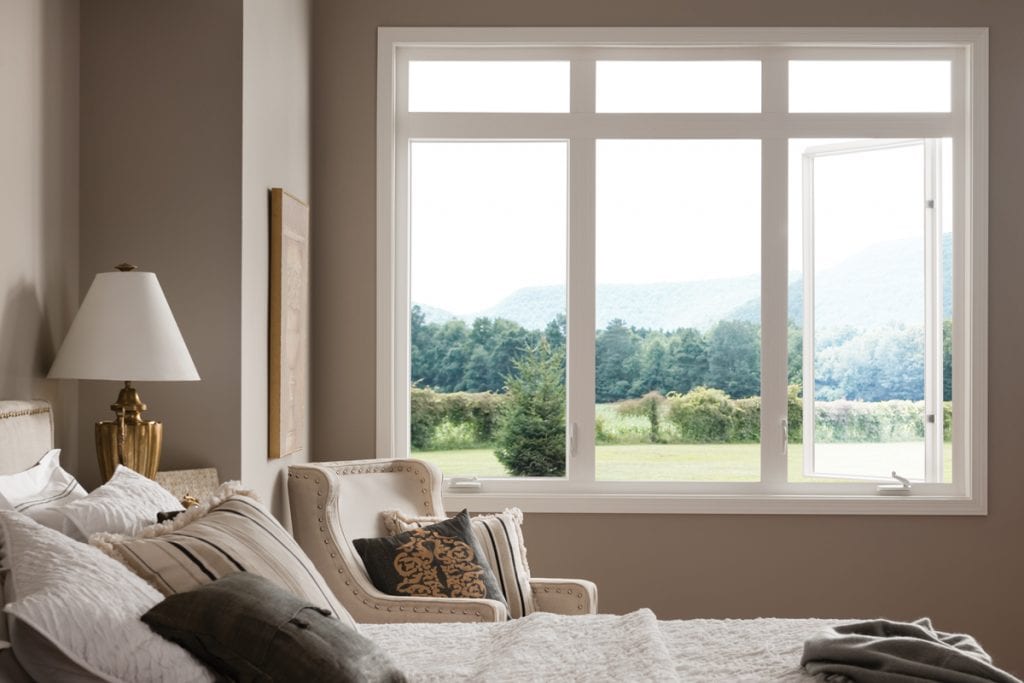 Choosing new windows for your home is exciting! However, with so many options and features, it can feel a bit overwhelming to get started. At Next-Gen Windows & Doors, it is our pleasure to help you sort through your options and make the best choice for your home. We offer numerous fiberglass and vinyl window styles, and our design experts can help you choose the windows that will provide the comfort, security, and illumination you desire!
Double-Hung Windows
Double-hung windows are a popular choice due to their durability. Ideal for creating a classic look, they feature an upper and lower sash that allows both panes to slide within the casing. This makes it easy to adjust the windows to deliver just the right amount of ventilation. These windows are easy to clean and energy-efficient. While they are more expensive and do require more maintenance than other window options, their advantages more than make up for their disadvantages.
Glider Windows
Glider windows are another traditional choice that is popular in Colorado. Elegant and simple, these windows are designed to open either vertically your horizontally. They allow for increased ventilation and illumination, and their design means they are very low maintenance. As with double-hung windows, they are energy-efficient and perfect for letting fresh air into the home. If there is any drawback to these windows, it is that they do require a little extra effort to clean.
Casement Windows
Casement windows are perfect if you want a window that will look great even as the trends change. Casement windows are tough and durable and consist of a single large pane which allows for an unobstructed view through the window. It also maximizes the amount of light within the room, and the handles make it easy to open/close the window. These windows are very energy-efficient and offer superior security because the locks are embedded deep into the frame. They are versatile and allow for superior ventilation because they open completely, which lets you enjoy a cool breeze on a hot summer's day. On the other hand, you can't install window air conditioning units on casement windows, nor can you install screens or storm windows.
Awning Windows
Awning windows are similar to casement windows in their function. They offer the same light and ventilation benefits and are perfect when space is at a premium. Designed to open from the bottom, they are perfect for installing higher up on the wall or above other immovable windows. They are renowned for their ventilation, and because they are higher on the wall, they can help keep rooms cooler by venting the hot air towards the ceiling quickly and efficiently. However, because of their position on the wall, it is not possible to use them as escape windows, and they do tend to get dirtier as dust and dirt settle on them when they're open.
Bow Windows
Bow windows are perfect for enjoying natural light. They are also fully customizable and can significantly enhance your home's curb appeal. Larger than standard windows, they are great for enjoying the view. They are closely related to the ever-popular bay window which is perfect for catching a glimpse of the mountains in the morning. The biggest downside to these windows is finding the right window treatment.
We'd love to help you find the right windows for your home in Colorado! Contact the Next-Gen Windows & Doors team at 719-270-4494, and we'll be happy to answer your questions and tell you more about the window styles we offer our clients in the region.