With such a vast terrain of dramatic landscapes, Colorado is a beautiful place to live, with the views to match. However, homes located in higher altitudes will experience some differences in regular wear and tear that are important to take into consideration when building. When searching for new windows, whether you are building a new home or giving your home a face-lift, it is important to understand how higher elevations can affect certain products.
At Nex-Gen Windows and Doors, we are a proud supplier for some of the top-rated window products on the market and offer professional window installation services throughout Colorado! Call us today at (970) 517-3931 for more information on our altitude-resistant window options!
The Effects of High Altitude on Windows
Most modern windows have been optimized for energy conservation by using a double- or triple-pane glass system that has a gas filling in between the panes for additional insulation and a reduction in the heat energy that is transferred through the window. Unlike our bodies, windows cannot self-regulate according to pressure changes. When these gases, such as argon, are exposed to changes in pressure from higher elevations, they can begin to expand, which can cause structural problems, including:
Pane cracks or shattering
Warped frames
Broken window seals
Compromised structural integrity
In order to ensure that your home's beautiful Colorado view isn't compromised by window damage or pane clouding, it is helpful to understand what products are the best fit for your home.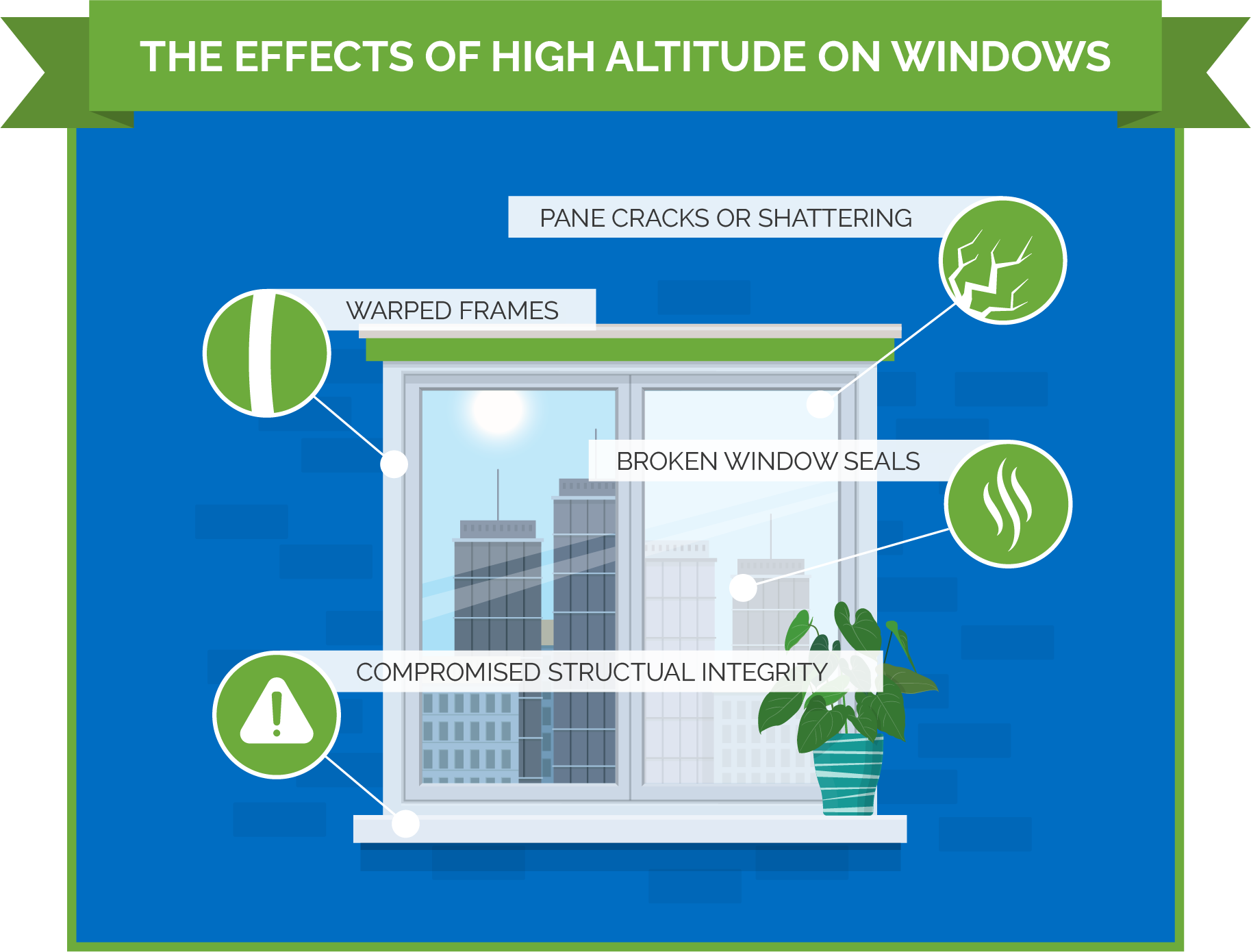 The Best Windows for High Altitudes
When choosing your windows, there are two key things to consider: where does the window come from and what features make it resistant to pressure changes? Let's get started!
Source Your Windows Responsibly
Most window products are manufactured in locations below 1,000 feet, which is not ideal for homes above 5,000 feet in need of windows. When dealing with higher altitude homes, one of the first go-to responses for window installation contractors is to source windows from local manufacturers. This means that the windows themselves would not undergo as much stress from dramatic changes in pressure during the shipment process.
While this may be effective if you have reputable, high-quality manufacturers in your area, this will not be a perfect solution for everyone. At the end of the day, it all comes down to product quality.
Features to Look For
Thankfully, the options are seemingly endless when it comes to windows. The market is flooded with windows that can satisfy form, function, and style.
For high-altitude homes, people generally avoid windows with argon gas insulation between the panes. Instead, look for window styles with internal capillary tubes that allow internal air to flow between the panes and equalize during pressure changes. These tubes will be sealed off during installation and there are ENERGY STAR® rated options available for energy efficiency.
If you are looking for a gas-insulated window, triple-pane windows may be a viable option. While triple-pane windows may be at a slightly higher price point, they also are less likely to be damaged by the changes in pressure and are a pristine example of optimized energy technology for insulated windows.
Contact Nex-Gen for Your Colorado Window Installation
When your home needs new windows, see to it that the project is done right and call in the experts at Nex-Gen Windows and Doors! We have refined the window-buying experience for our customers and will see to it that your home is outfitted with the best.
Call us today at (970) 517-3931 to speak with a representative today!